Whether it's a wet winter or humid summer, damp indoor air could be an issue. It's uncomfortable and encourages dust mites and mold growth. Plus, condensation could stain and/or ruin the paintwork. The situation could be worse in case you need to dry plastic products in a commercial setup. So, how do you avert any such potential problem? Your best bet should be a dehumidifying dryer. It's an easy, practical solution to get rid of excess moisture from air indoors. However, choosing the best device is the key. Here's a useful guide that should help you pick an ideal dehumidifier.
Tips to buy the best dehumidifying dryer
When it boils down to buying an ideal dehumidifier, many buyers don't do any homework. They just drive to their nearest store or surf the net with suitable keywords. As soon as the first model comes across, they pick it. However, most of the shoppers repent later on for making a hasty decision. Picking an ideal machine warrants a little bit of time and diligence on your end. However, your time will pay off substantially in terms of a top-class dehumidifying dryer matching your needs and budget.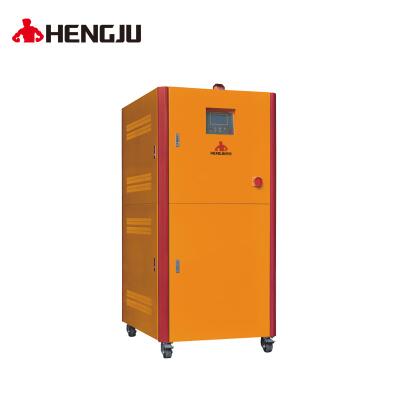 Define your needs
As stated earlier, a little bit of labor on your part is important before shopping. Ideally, you may want to jot down your expectations with the device. For instance, figure out whether your place features humid and damp weather conditions for a major part of the year or not. If this is the case, you may need a high-quality machine that can soak up adequate water from air and dry your products efficiently. On the other hand, a common dehumidifying dryer will make a good choice for places with moderate dampness.
Humidistat
A humidistat allows you to set target humidity for your room. Depending on the make and model, this could be an accurate number setting or it may offer some basic settings such as high, medium, and low. If you want to have the exact amount of humidity, then a dehumidifying dryer with accurate number settings could be your better bet. Such a device will let you ensure an ideal amount of humidity, necessary for drying particular products.
Remember, a 40 to 60 percent humidity range is perfect for human comfort. However, you may go for as low as 30 to 20 percent for a dry feeling. If you live in a region that has moderate dampness, then a model with basic settings such as low, medium, or high might be a good choice.
Low-temperature effectiveness
Excess moisture can occur at low and high temperatures. Most manufacturers give moisture removal rates for conditions that make their devices look best - usually 30 percent and 80 percent relative humidity. However, the performance of their devices is often lower, weaker at colder temperatures. If you wish to deal with colder condensation, seek figures at 10 degrees centigrade and 15 degrees centigrade. A dehumidifying dryer that performs better at these conditions will make a good choice for your place, especially for drying plastic and other products.
Portability
Dehumidifiers could be heavy depending on their shape, size, and end-use. For example, if you need a dehumidifier for your home, you may want it to move from one room to another. Moving heavy devices can take a heavy toll on any person.
Handles, castors, and wheels are useful for the movement of the unit. This is even more correct in the case of a commercial setup where you need bigger units for drying commercial items. So note this important parameter when checking suitable models.
Continuous drain capacity
Drain capacity means the ability of the dehumidifying dryer to drain water continuously. Many folks don't pay attention to this feature. If you need a small machine for your home that has moderate humidity, then the constant draining feature may not be that important.
However, extreme temperatures necessitate the need for continuous water draining. The draining feature is also useful for commercial establishments. So, figure out the end-usage and weather conditions of your place, and then check the draining capability of the model.
Brand name
As with any other product, the maker of the device is an extremely important factor that shouldn't be overlooked. The choice of the right brand can make a big difference between a good dehumidifying dryer and a bad model. So, list out reliable brands engaged in providing dehumidifiers.
Make a checklist of brands through offline and online sources. As far as offline sources are concerned, your contacts and acquaintances could come in handy. You may also want to explore online platforms, including social sites and forums to compose your checklist.
Durability
Not all dehumidifiers are created equal. Some models are fragile and break out quickly. On the flip side, certain models stand to the testing of time and last longer. As a prudent buyer, you may want to buy a durable unit. To do that, check the construction of the unit and find out what materials are used in engineering the product.
Warranty
No matter how carefully you use the dehumidifying dryer, it may sustain damages and repairs. While it's okay to expend some money on repairs, you may want to cover yourself against major damages, especially during the initial months of your purchase. This is where the warranty of the product comes in handy. A reputed brand will offer a decent warranty on the model. If a particular brand doesn't offer any warranty, you're better off checking other brands.
Price
Obviously, you wish to buy a good-quality dehumidifying dryer without denting your wallet. You may do so by comparing the price of various brands. Examine the rates, warranty, durability, portability, and quality of each model minutely. Finally, commit to the brand that provides top-class models at reasonable rates.
Bottom line
Choosing a good-quality dehumidifying dryer can be a difficult job, thanks to numerous models out there. However, you can get through this pressing chore by sticking to the above advice. If you follow the above tips and depend on a reputed brand, there's no reason why you won't get an ideal dehumidifier matching your particular requirements.