Switchboard material handling system
HENGJU's automation mix batching system is widely used in industrial production, we have many successful project cases in injection molding machine, blowing, extruder and other industries. High precision batching,automatic conveying line are incomparable important for production process and formula, product quality and labour intensity.
Features of HENGJU's automatic material batching system: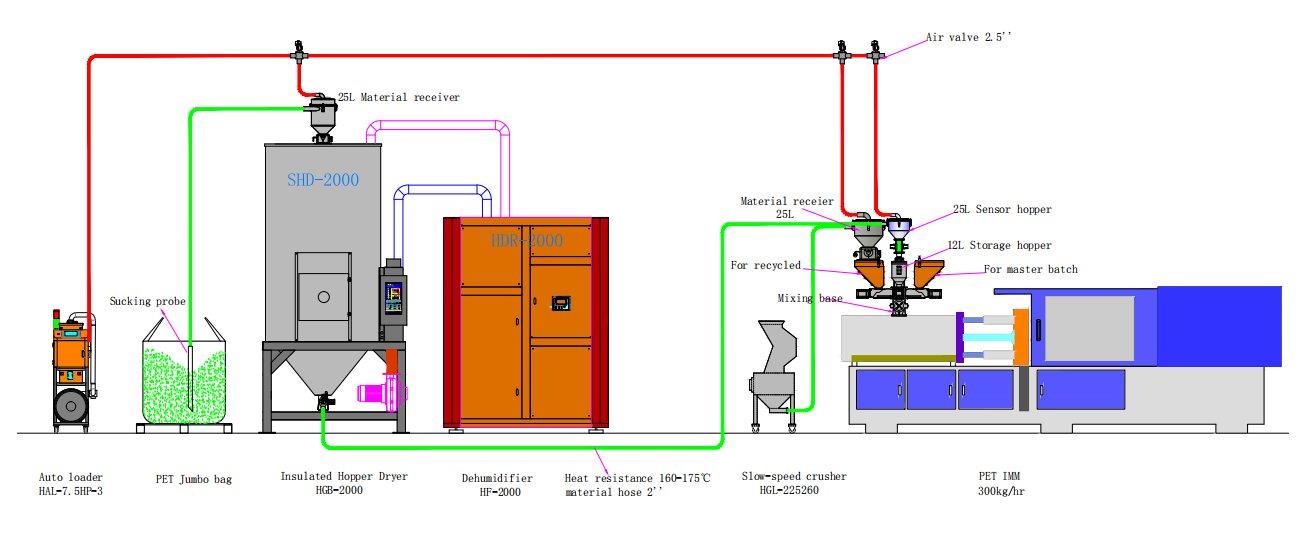 1. Weight sensor with advanced theory, high precision. Usually us digital sensor , precision can reach to millionth.
2. High linearity in material conveying, driving part can reach pretty high resolution.
3. High requirement on automation. Use SIEMENS PLC control,chain system for controlling, to meet requirements of automation production.
4. High feeding accuracy. Use advanced feeder and control system, the whole system is with high precision. Usually precision can reach to 0.5-1%.
5. Simple operation. Usually equipped with advanced monitoring system and controller .It is complicated during commissioning period, but after commissioning is ready with proper parameters set, operators only need to refer to the parameters to set up production capacity.
6. High maintainability . With advanced controlling system, fault diagnosing is easy to realize, which helps to shorten the time of trouble clearing.
7. Powerful: advanced monitoring system to achieve management of complicated formula, order and history . Optimizing system control , automatic stop and start up ,chain management, remote diagnosis, detection and controlling.
8. Reasonable invest structure: one time investment is comparatively high , since automation level has been improved, can save labor cost, can avoid quality issue caused by manual work, avoid overlapping investment.
HENGJU's material batching system is industry leading in batching accuracy , we provide comprehensive plans both on hardware and software.